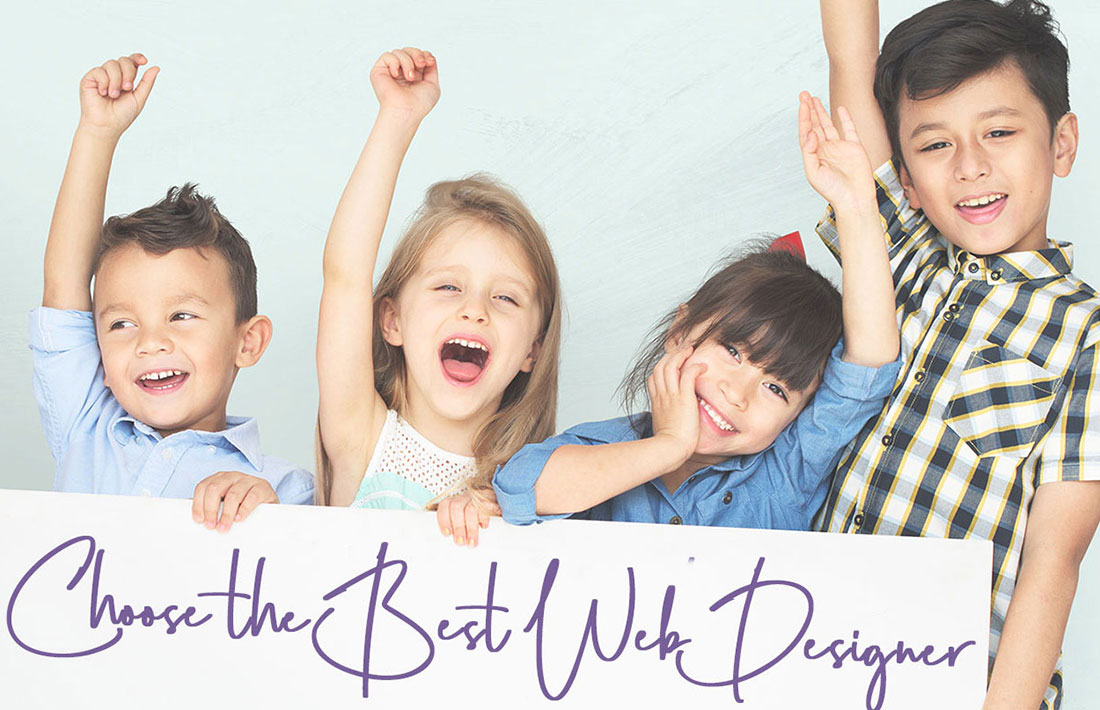 4 steps to help you choose a website designer
The following steps should help you make the right choice when it comes to selecting the right web designer for your business.

1. Establish your goals

2. Identify your budget

3. Select the best website designer

4. Select the best hosting




1. establish your goals

The first step is to make the effort to comprehend the goals of your website. This will be crucial to assist the web design firm you pick. In order to set your website objectives, ask yourself the following:
1. Why do you want a website?
2. What if you don't have a website?
3. What makes your product unique?
4. Will you need many internet design updates?
5. Do you want to sell on the internet?
6. What is your target audience?
7. Do you already have a brand?
8. Who are your competitors?
9. Will you require photography?
10. How fast do you want your site built?
Take the time to respond to each of the above questions and if possible, write the answers down on a sheet of paper. These enquiries are what most web design companies will certainly ask you before they start to create your site.
Do you have a name for your brand? If you are struggling to find a domain name for your brand, you should try out this powerful business name generator which revolutionizes the way entrepreneurs create brand names via a unique combination of crowdsourcing and AI.
Try out the free disruptive generator to generate unique business names.
If you have answered the above questions in advance, you will have some criteria for selecting the best web designer for your business. For instance, if you are a real estate agent, and wish to publish listings on your internet site, you should look for a website designer who understands the realty business and has ideally created websites for other property agents.
2. identify your budget

Just how much do you intend to invest in your web site? Internet design can cost you anywhere from $1000 to $100,000 depending upon what you want it to do. Know your spending restrictions before you start negotiations with a web designer.

Provide all your requirements to them in order to get a realistic quote. If your budget is limited, you may need to reconsider some of the requirements and provide them with a rough idea of what you wish to spend. Check out our NZ website cost guide.
3. select a web designer

Your selection of a website designer is an important step. Take your time to check out all of your options. Below are some important things to take into consideration before making your selection.
Design vs Build
Constructing a website is a highly technical process. Designing a website is a very creative procedure. Some advertising agencies only specialise in design which does not always need any kind of development skills. They may use template based internet software which use drag and drop features without the need for any development skills, or they may outsource the web development to cheaper overseas developers.
The process of creating an internet design is similar to the process of building a brand-new home. Prior to asking a construction business to start building, you may seek out an architect to produce a blueprint of your home taking into account what you want, e.g. number of stories, square footage, etc.
Developing an in-depth blueprint before building begins can assist you in properly estimating the final cost. Without the plan, you may wind up paying a great deal of money for a house that does not fit your needs.
Developing an internet site is precisely the same, except a lot of "builders" also claim to be "designers". The good news is that you can look at various sites a web designer has actually created (like taking a look at various other homes that a house builder has made).
Ensure to ask the internet designer what their process is for designing a site vs. developing a website. They should recognise the difference between these two concepts. If they do not, they're most likely a builder that presumes they can also be an architect.
Assess Their Experience
Has the web designer created an internet design for similar businesses to your own business? Do they have pertinent industry experience? Similar to any type of solutions firm, picking a person that has pertinent experience can be very helpful. If you intend to offer products via your internet site and also approve credit card payments online, does the website designer in Auckland you are considering have experience doing simply that?
Review Their Portfolio
A well established web designer will certainly have a strong website portfolio that they have actually developed for other customers. Ask for web links to various other websites the designer or company has produced and examine every one. Do you like what you see? Do the sites have a style that attracts you?
Along with evaluating websites, request consumer referrals. Get in touch with their customers and also ask them about their experience with the website designer. Were they delighted with the outcome? Did they get what they paid for? How much did they pay? Would they recommend them? How long did the project take? What didn't they like about the web designer? How receptive was he/she?
Compare Prices
Pricing for developing a site can vary considerably. Commonly, an internet web designer will bill you in three ways:

Time: The cost is variable based on the actual number of hours invested working on your site. For example, a web designer might bill you $75 per hour. If it takes 100 hours to produce your website, your cost would end up being $7,500.

Fixed price: They may charge you a fixed price based on your website requirements. If you outline your requirements extremely carefully, most website designers should give you a set price estimate.

Component Pricing: Some internet designers will certainly charge "by the page". By developing a cost based upon the number of web pages, you can control the price by having a specific number of pages. Be aware though that most advertising agencies will charge by the page, but will have additional prices for components such as custom-made graphics, animated pictures, video and photography.
The most vital step in pricing is to make sure the web designer lays out all of the prices related to the work and that every one of the costs are well understood in advance. Make sure that you understand what "done" means. Attempt to structure payments so that the balance of the fees are not due until you "accept" the finished product.